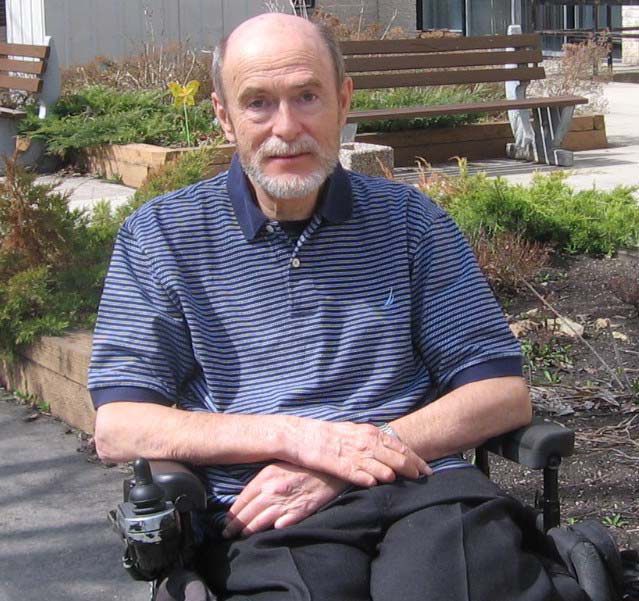 It has been a while now since we lost a wise voice on accessible housing and design.  Those that knew Don Ament would be aware of the incredible breadth of knowledge and history he held regarding accessible architecture and specifically housing throughout the province of Manitoba.   Don influenced public policy and the design of buildings for many years.
But even if you did not know Don you probably have unknowingly been influenced by his actions.  He quietly encouraged disability awareness and supported change to housing policies for many stakeholders, including, but not limited to people with physical disabilities.
Over the years I witnessed numerous occasions when Don would have somehow managed to get invited to a meeting of the key stakeholders in a major real estate development and most often this would result increased accessibility and more opportunities for housing options.
Don was in his element when sitting at his computer with his database of accessible housing open on the screen while chatting with a person who needed to find alternate housing because their current living situation was not accessible.
I was fortunate to have been involved with Don in a variety of capacities for over 18 years and feel most fortunate to have been given the opportunity to have been 'mentored' by this sage housing expert.   The biggest lesson Don ever taught me was that our role is to provide options not 'solutions'.  It was really only through the direct involvement of the people who would be living in those spaces could we ever be sure we were delivering a product that would meet the needs.
Don lived and breathed the ideals of the Independent Living movement.  Although trained as a social worker, he could debate with any architect or contractor, the construction details of an extruded aluminum threshold and how it should intersects the concrete of a perimeter grade beam.
It is a loss to all of us that Don passed away in the spring of 2011, not long after finally retiring Ten Ten Sinclair Housing in Winnipeg.  Originally a country boy from rural Manitoba he never forgot his roots and often told stories of his family life and his classic cars.    In the summer of 2011 I had the opportunity to visit Don's hometown and met some of his friends from his high school days.  It was as if Don had only left a few months ago.  The shared stories of the 1960"s in Rossburn were the witness to the strong foundation of community that was always present when working with Don on a project.
Even though Don's voice is not here now, his influence and passion for accessible housing lives on in Manitoba.